June, 2017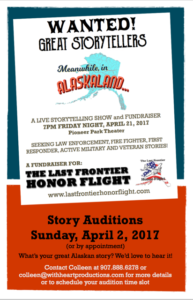 We know there are many great women storytellers out there! If you know anyone who might be interested in sharing a story for this show's theme of Law Enforcement, Firefighter, First Responder, Active Military and Veteran stories, please forward them our information. Story auditions are Sunday, April 2nd or by appointment. We are looking for stories of approx. 8 min, 10 min max. Stories must involve Alaska and our theme. That's it!
We will eventually be building on our footage of the storytelling show to make a series of short documentaries of selected stories. Ultimately, our stories will be kept safe in the UAF's Film Archives for generations to come : )
Thank you and Have a great day!
Colleen Stymeist-Wood
With Heart Productions, LLC
907.888.6278
February,  2017
Congratulations Roxy Wright!
Stephan Wiebe: Wright wins 4th Fur Rondy sled dog title – her first in 24 years
Anchorage Z. J. Loussac Library
It's time to plan on growing your personal library!
**Please note the Book Sale is occurring much earlier than in previous years.
Current Friends of the Library members can attend the Book Sale at the Z.J. Loussac Library on Friday, March 3, from 6-9PM, for a members-only shopping day. Be first to browse thousands of books, CDs, and DVDs for all ages while enjoying light refreshments.
If you're not a member yet, but want to shop early – no worries! You can become a member at the door or click here to join online.
The Book Sale will be open to the public on Saturday, March 4, from 10AM-4PM, and on Sunday, March 5, from 12-4PM.
Follow signs to the event entrance on the northwest side of Loussac parallel to 36th Avenue. Parking is available in the Library's south lot.
Pricing
This year, materials are priced low to go so there will not be a half-price Sunday. Prices depend upon the item but most range in the $1-$5 range. Rare Alaskan books may go for higher. Money raised at the Book Sale supports collections and programs throughout the Anchorage Public Library.
Volunteer at the Book Sale
Almost every person working the book sale is a volunteer. If you are interested in helping out with setup, working the sale, or the event tear-down – all on the first floor of the Library, contact Rick at hendersonra@muni.org for more information.
Avery Lill: Dillingham residents dance to raise awareness about violence against women
Charles Wohlforth: How Kay Brown's toughness and ethics helped shape Alaska
Meet 2016 Individual Artist Award recipient Sarah Mitchell
Congratulations Andrea Cesar, Sioux Douglas, Kris Sell and Rena Sims!
By Juneau Empire: AWARE announces this year's Women of Distinction honorees
Rachel Weingarten: Alaska's Female Fishermen (Yes, That's Really a Thing) On Gender Labels, Finding Zen and Weathering Life's Storms
Congratulations Marjorie Tahbone!
Rue Kaladyte: Meet Alaska's fastest woman with an ulu
Rue Kaladyte: Photos: 2017 Alaska Ski for Women
Annie Zak: New apprenticeship programs aim to train Alaska workers amid a tough job market
Nominate A Distinguished Artist
For Immediate Release
Contact: Aleesha Towns-Bain, 907-334-0509
Anchorage, Alaska – Rasmuson Foundation is seeking public nominations for the 2017 Distinguished Artist Award. The Award recognizes the significant artistic accomplishments of one Alaskan and culminates in a $40,000 grant.
"The Distinguished Artist Award is an opportunity to celebrate the talents and contributions of an extraordinary Alaska artist," said Jeff Baird, program officer for the Foundation. "We welcome the participation of Alaskans in this process to make sure our best artists are identified and their impact on our state is validated through this award."
The nomination deadline is March 1.
Eligible artists will have honed their craft for a minimum of 15 years, have an extensive independent body of work, and will have had a broad impact on arts and culture in Alaska.
Past Distinguished Artist Award recipients are Don Decker and Garry Kaulitz of Anchorage; Peggy Shumaker, Kes Woodward, John Luther Adams and John Haines of Fairbanks; Teri Rofkar of Sitka; Rie Munoz of Juneau; Ron Senungetuk of Homer; Sylvester Ayek of Nome; and Delores Elizabeth Churchill, Ray Troll and Nathan Jackson of Ketchikan.
Nominations may be submitted online.
Diana Marszalek Trio of Women Take Charge at Gray's Alaska Stations
Charles Wohlforth : Alaska woman's know-how could change how loans are made in Rwandan villages
January,  2017
Aleesha Towns-Bain to head Bristol Bay Native Corporation Education Foundation
FOR IMMEDIATE RELEASE
Bristol Bay Native Corporation Contact Andria Agli, 907-278-3602 or aagli@bbnc.net
Rasmuson Foundation Contact: Courtney Brooke Smith, 907-334-0520
Aleesha Towns-BainAnchorage, AK— Bristol Bay Native Corporation (BBNC) is pleased to announce the hiring of Aleesha Towns-Bain as the new Executive Director of the BBNC Education Foundation. As Executive Director, Towns-Bain will provide strategic leadership and effective management of the Foundation's operations.
Chris Klint: Survey: Alaska women report 'very high' rate of stalking
Ingrid D. Johnson: Reject any normalization of sexual violence
By Angelique Fiske: Robert Kraft surprises Chief Master Sergeant from Alaska
2017 Beginning Organic Gardening Classes
Mike Dunham: For Anchorage musician Laura Oden, dormant decade led to a musical revival
Mike Dunham: Wildflower wizard Verna Pratt dies in Anchorage
By Dan Carpenter: Pre-filed bill would change the way assault kits are handled
Eminent Domain
Devin Kelly: City of Anchorage poised to head to court with property owners on Spenard Road
Alice Rogoff: A New Year's update from the publisher of Alaska Dispatch News
Lisa Maloney: Now's the ideal time to book a public-use cabin for a midsummer Alaska getaway
BP Teachers of Excellence
Nominations are now open!
Please submit by February 1, 2017.
Winter fun for the whole family: 5 ways to stay active in the cold
SPONSORED Presented by Alaska Native Tribal Health Consortium: Don't let short Alaska days give you and your kids a case of cabin fever.
Alaska Dispatch News: New Year's Day fundraiser brings in $57,000 through the power of coffee
Mike Dunham: What Teri Rofkar taught us through her art
Mike Dunham: Nine Alaskans have been selected to receive the 2017 Governor's Awards for the Arts and Humanities at a gala in Juneau on Jan. 26. They are:
-Robert Banghart of Juneau, for distinguished service to the humanities
-Marilyn Davidson of Kodiak, for arts education
-Charlotte Fox of Anchorage, for lifetime achievement in the arts
-Lani Hotch of Klukwan, for arts business leadership
-Kathleen Carlo Kendall of Fairbanks, for Alaska Native arts
-Heather Lende of Haines, for distinguished service to the humanities
-Lance Petersen of Homer, for individual artist
-Robert Sparks of Kenai, for Alaska studies educator of the year
-Shirley Mae Springer Staten of Anchorage, for distinguished service to the humanities
Congratulations Rosie Mancari!
Beth Bragg: Anchorage snowboarder ascends to her sport's biggest stage
Mike Dunham: Ernestine Hayes named 2017 State Writer Laureate
Six nonprofit executives selected for Sabbatical Program
Congratulations:
Stephanie Berglund, thread (Anchorage)
Jason Hodges, Anchorage Concert Association (Anchorage)
Alison Kear, Covenant House (Anchorage)
Gerda Kosbruk, Native Village of Port Heiden (Port Heiden)
Jillian Lush, Sprout Family Services (Homer)
Susan Ohmer, Petersburg Mental Health Services (Petersburg)
The next deadline to apply for a Rasmuson Foundation Sabbatical is October 1, 2017. Details about the Sabbatical Program, guidelines for preparing a proposal, and application materials are available online.
Congratulations Eva Perry!
Suzanna Caldwell: With microloan help, Mountain View gets an espresso shop
Shannyn Moore: Sisters, there's a war on women
Congratulations Bang-On Roulet!
Video: Halloween pumpkin carving tips from Anchorage master food sculptor
Congratulations Crystal Garrison!
Lisa Demer: Yup'ik speaker is 1st to be official court interpreter
Crystal Garrison, supervisor for Alaska Court System's in-court clerks in Bethel, recently passed the National Center for State Courts' written exam for court interpreters. She was tested on court terms, ethical standards for interpreters and her English proficiency. About half of the first-time test takers pass; Garrison scored 93.