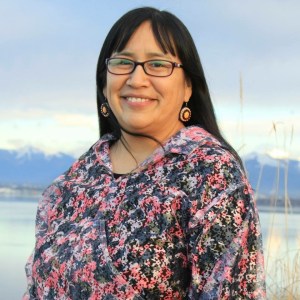 Angela Gonzalez is of Koyukon Athabascan heritage, a wife and a mother of two. She is from Huslia, but  lives in Anchorage and works in the PR/communications field. She enjoys sharing photos and stories of life in Alaska, with a focus on Alaska Native culture.
The Athabascan Woman Blog is about Athabascan culture and Alaska Native topics. Stories of growing up in fish camp and life in the village and city are often shared. She also highlights Alaska Native people doing great things. Occasionally, a guest author shares a story, poem or video.
Angela's sister, Tanya Yatlin, is the editor of the Athabascan Woman blog. Tanya currently lives in Huslia, Alaska and works in early childhood development.
An Alaska Native Introduction
I'm Angela Yatlin Gonzalez, originally from Huslia, Alaska. My Koyukon Athabascan name is Łot'oydaatlno. My parents are Al and Eleanor Yatlin. My grandparents on my mother's side were the late Edwin and Lydia Simon. My grandparents on my father's side were the late George Frank and Minnie Yatlin, and Alda Frank (my grandfather's second wife who currently lives in Galena, Alaska).
Please sign up to receive new posts: